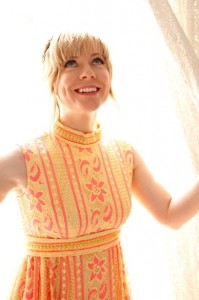 Gwendolyn is a daughter, a sister, a mother, a wife, a friend, a lover of Nature, a songwriter, a gardener, a TV/film composer, a reader of scientific studies, a voice-over artist, an activist, a hiker of mountain trails, a thespian, a collector of beautiful dresses and old folk records… although not limited to and not necessarily all in that order.
The music of this California songwriter is playful and poignant yet oddly magical. Influences include The Incredible String Band, Nick Drake, Dolly Parton, Pavement, The Moore Brothers, Bob Dylan and Syd Barrett. The Aquarian writes songs that inspire the mystery inside and her lyrics form images that will inevitably lead you through that open-ended challenge: a search for Self.
Her latest release BRIGHT LIGHT follows her pursuit of love, marriage, and motherhood. A tribute to LA's Country/Americana music scene, Gwendolyn and producer Ethan Allen selected songs naturally lend themselves to the style. In addition to the core Gwendolyn band, the album features the musical talents of Josh Grange, Tony Gilkyson, Paul Lacques, Evo Bluestein, Cliff Wagner and Tim Weed. With harmonies sung by I See Hawks In LA and members of The Living Sisters.
As a child, Gwendolyn sang, danced and broke hearts around the neighborhood starring in her own backyard productions… one might say – not a lot has changed.
A graduate of the Los Angeles County High School for the Arts, Gwendolyn took up residency at LA's oldest repertory theatre – Theatre 40. During her down time, she taught herself how to play guitar by writing songs… and quite a lot of them. In her search for a change of scenery, Gwendolyn traded the theatre for the local coffee house scene and began singing her songs around town.
Her debut ULTRASOUNDS (Whispersquish, 2000) shares the lo-fi recordings she made between 1995-1999 and includes "Freedom of the Heart (Ooodily, Ooodily)," as heard in Mike White's film CHUCK & BUCK.
Gwendolyn then recruited friends whose instruments naturally lend themselves to her slightly left-of-center music. Musician and old art-school mate, Douglas Lee returned home from living in New Orleans to build a glass harmonica – 26 different shaped wine glasses sonically tuned. Lee then added the saw and banjo to his repertoire. Another LACHSA alum Robert Petersen, returned from Berkeley to contribute his warm upright bass. Rounding out the ensemble, Brandon Jay (of Quazar and the Bamboozled) acquired pots, pans, water bottles, combs and a bicycle wheel to form what's known as his "drum set." Guest veterans Smokey Hormel (Norah Jones, Beck) and Ralph Carney (Tom Waits) to added their talent to the mix. DEW (Whispersquish, 2003) captures their unique sound live in the studio. The LA Weekly described their performance, "like a Renaissance Fair being held on Mars" and awarded her Best New Genre/Uncategorizable Artist of 2003 at the LA Music Awards.
Inspired by her more psych-folk material, Producer Ben Vaughn (Ween, Arthur Alexander) brought Gwendolyn to Scotland around the same time to create a more traditional sounding folk album with the local musicians there. LOWER MILL ROAD (Whispersquish), named after the studio's whereabouts, celebrated its late release with her local band on August 7, 2007. Gwendolyn captured the evening in the concert DVD LOWER MILL ROAD – LIVE AT BORDELLO (Whispersquish).
Gwendolyn has also released a number of cool albums for children as Gwendolyn and the Good Time Gang. www.gwendolynandthegoodtimegang.com
You can hear Gwendolyn's signature sound on Showtime's hit comedy Weeds and more recently Orange is the New Black. With her partners Brandon Jay and Scott Doherty, they work to create underscore for the show. Brandon and Gwendolyn also composed music and lyrics for Romy And Michele's High School Reunion The Musical opening at the 5th Avenue Theater in Seattle, Washington, June 8th, 2017.
Whether she's performing solo or with her devoted band, for children or adults, creating music for live theatre or television, Gwendolyn delights in leading her audience through an experience they will remember and a world they'll want to revisit.